What is the Harmonized System(HS)?
The Harmonized System (HS) is an internationally standardized system of names (description) and numbers (codes) for classifying traded goods.
The HS is a product nomenclature where each product is assigned its corresponding "6-digit"
code.
It was developed and presently maintained by the World Customs Organization (WCO)
(formerly known as the Customs Cooperation Council (CCC)) headquartered in Brussels, Belgium.
The HS nomenclature is annexed to the International Convention on the Harmonized Commodity Description and Coding System.
It was developed to facilitate international trade by establishing a uniform system for
the collection, comparison and analysis of international trade statistics.
It was established in 1983 and entered into force in 1988.
Under this Convention, contracting parties are obligated to base their tariff schedules
on the HS nomenclature, although parties set their own rates of duty.
Countries that have adopted the Harmonized System are not permitted to alter in any way the descriptions associated to a heading or a subheading nor can the numerical codes at the four or six digit levels be altered.
This is what keeps the Harmonized System harmonized.
Individual countries may extend a Harmonized System code to eight or ten digits for customs
purposes.
More than 200 countries, customs and economic unions, representing more than 98% of world trade use the HS.
Primary uses of the Harmonized System
Determination of customs tariffs (import duty)
Collection of international trade statistics
Rules of origin
Ascertain eligibility of a product under a Free Trade Agreement
Compliance with customs requirements
Collection of government revenue
Trade negotiations (e.g. the WTO schedule of tariff concessions)
Monitoring prohibited and restricted goods
Composition of the Harmonized System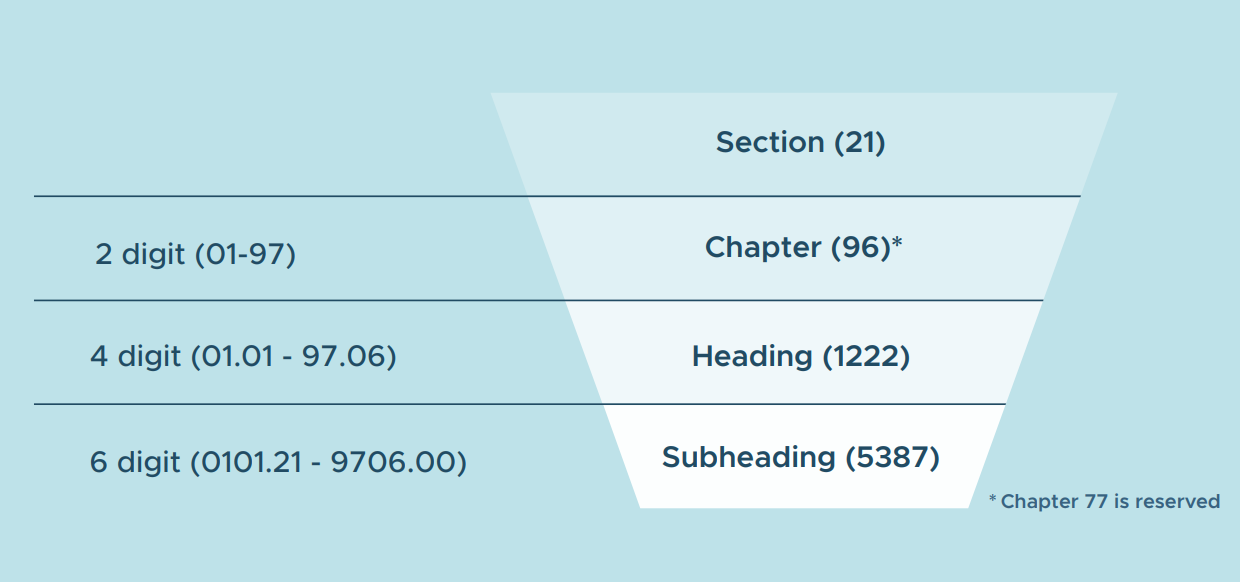 Source: WCO
Here is an example of the structure of the harmonized system in Section 10(X)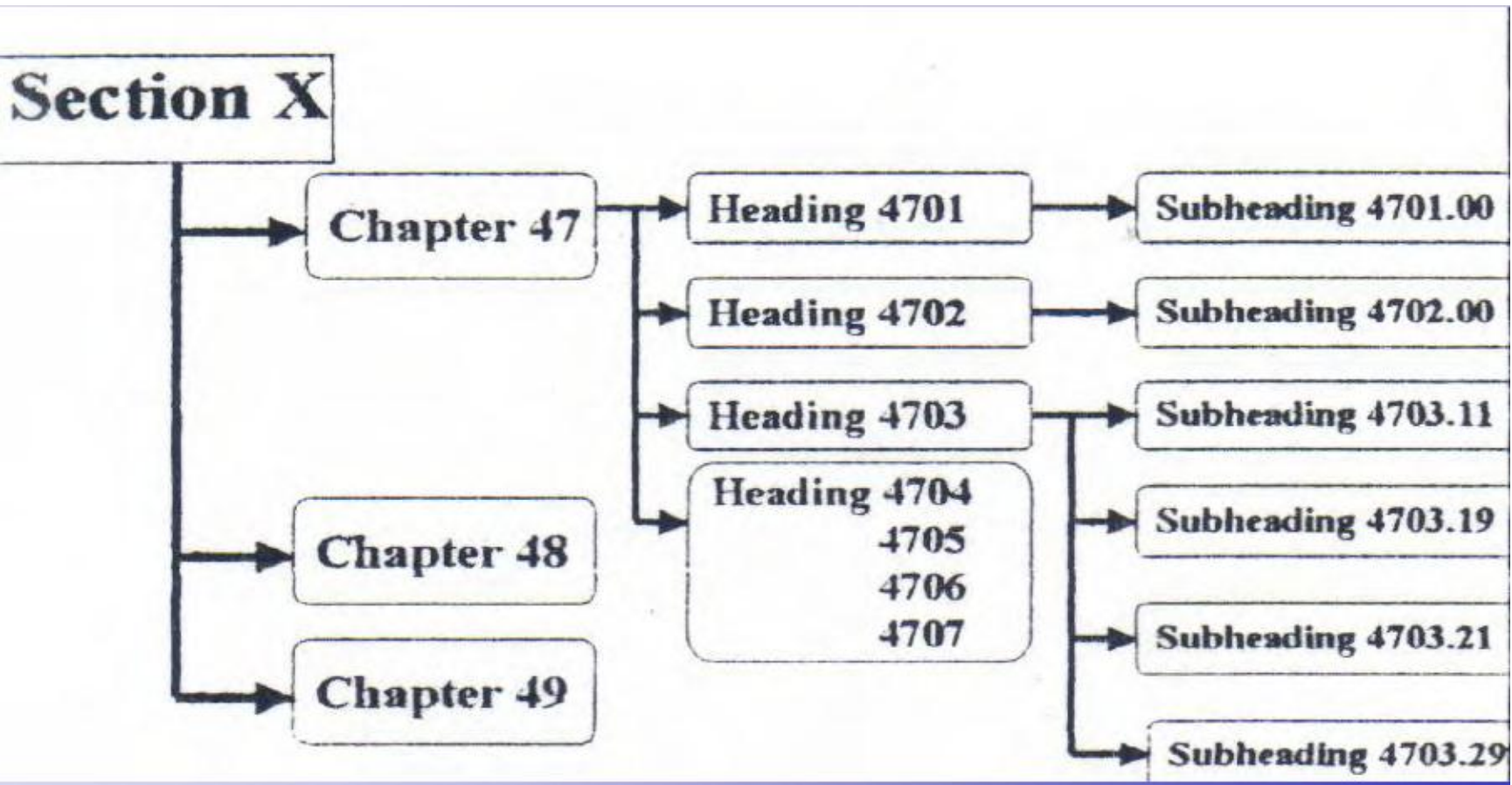 Sections
– The HS is primarily divided into 21 Sections
Example
Section I: Live Animals; Animal Products
Section VII: Plastics and Articles Thereof Rubber and Articles Thereof
Section XV: Base Metals and Articles of Base Metal
Section XVII: Vehicles, Aircraft, Vessels and Associated Transport Equipment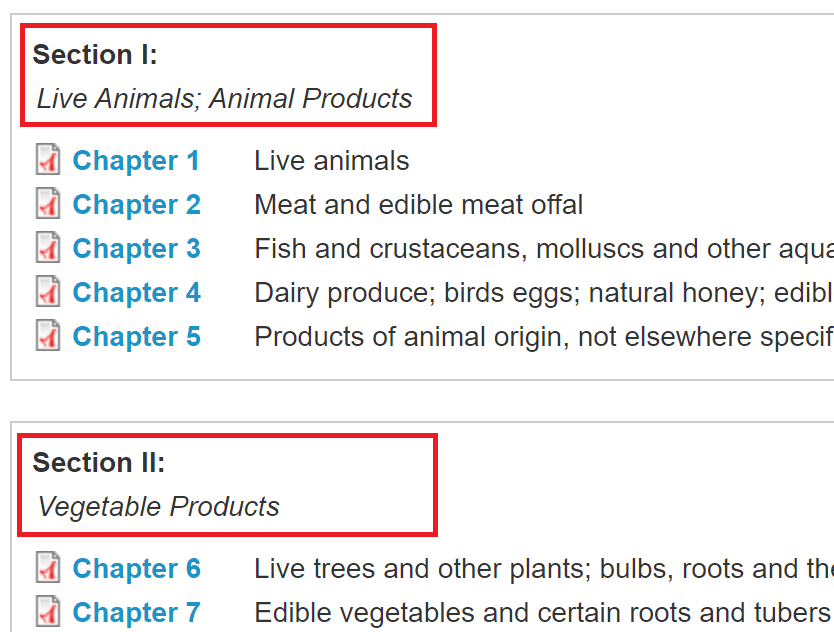 *The titles of Sections, Chapters and Subchapters are not legally binding
– They are for ease of reference only
– They are "pointers" or "labels" used to divide up the nomenclature.
– Help in directing you to areas of the nomenclature.
– They should not be quoted to support classification.
Example: Section XV is entitled "base metal and articles of base metal"
-However, many articles of base metal are classified in other Sections.
Chapters
– Sections are divided into Chapters
– There are 99 Chapters under the HS
– However, Chapter 77 is reserved for future use, while Chapters 98 & 99 are reserved for special uses by contracting parties to the HS Convention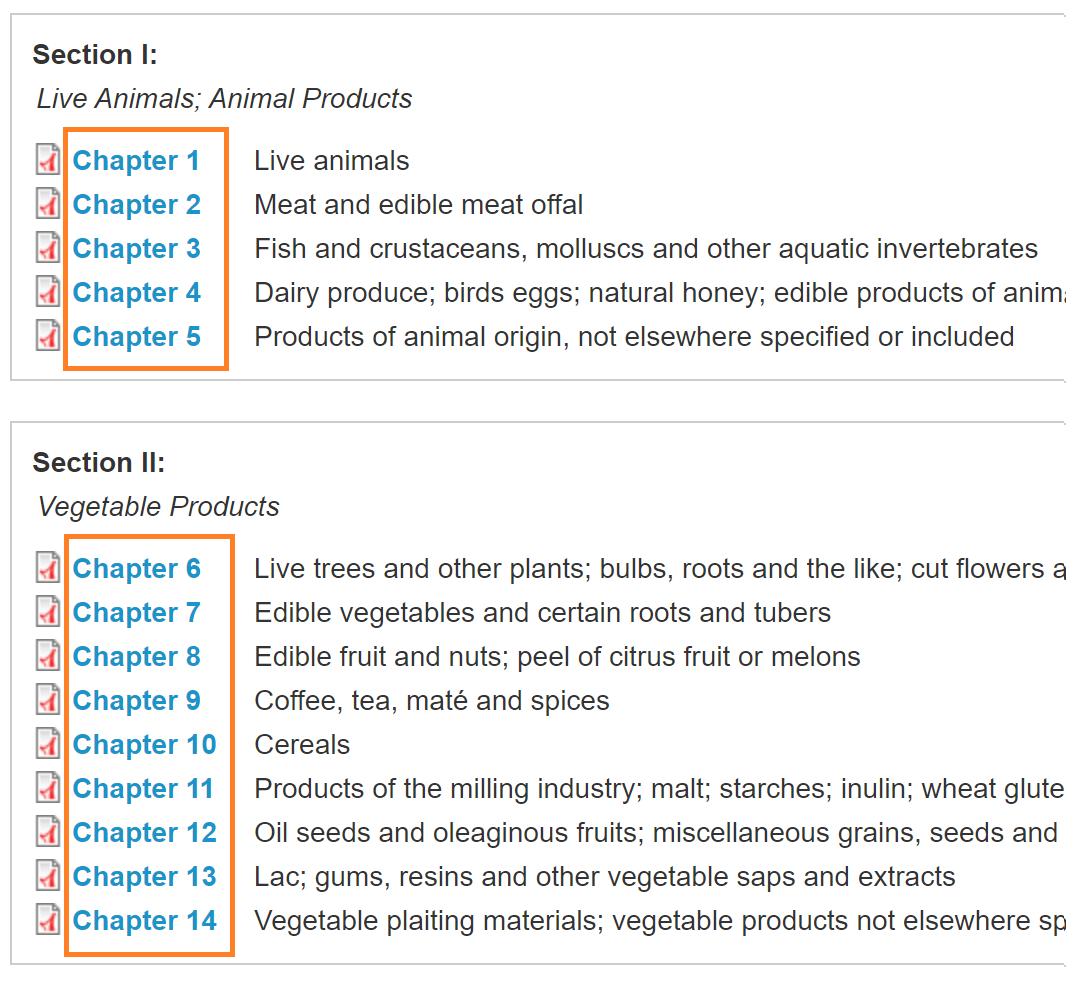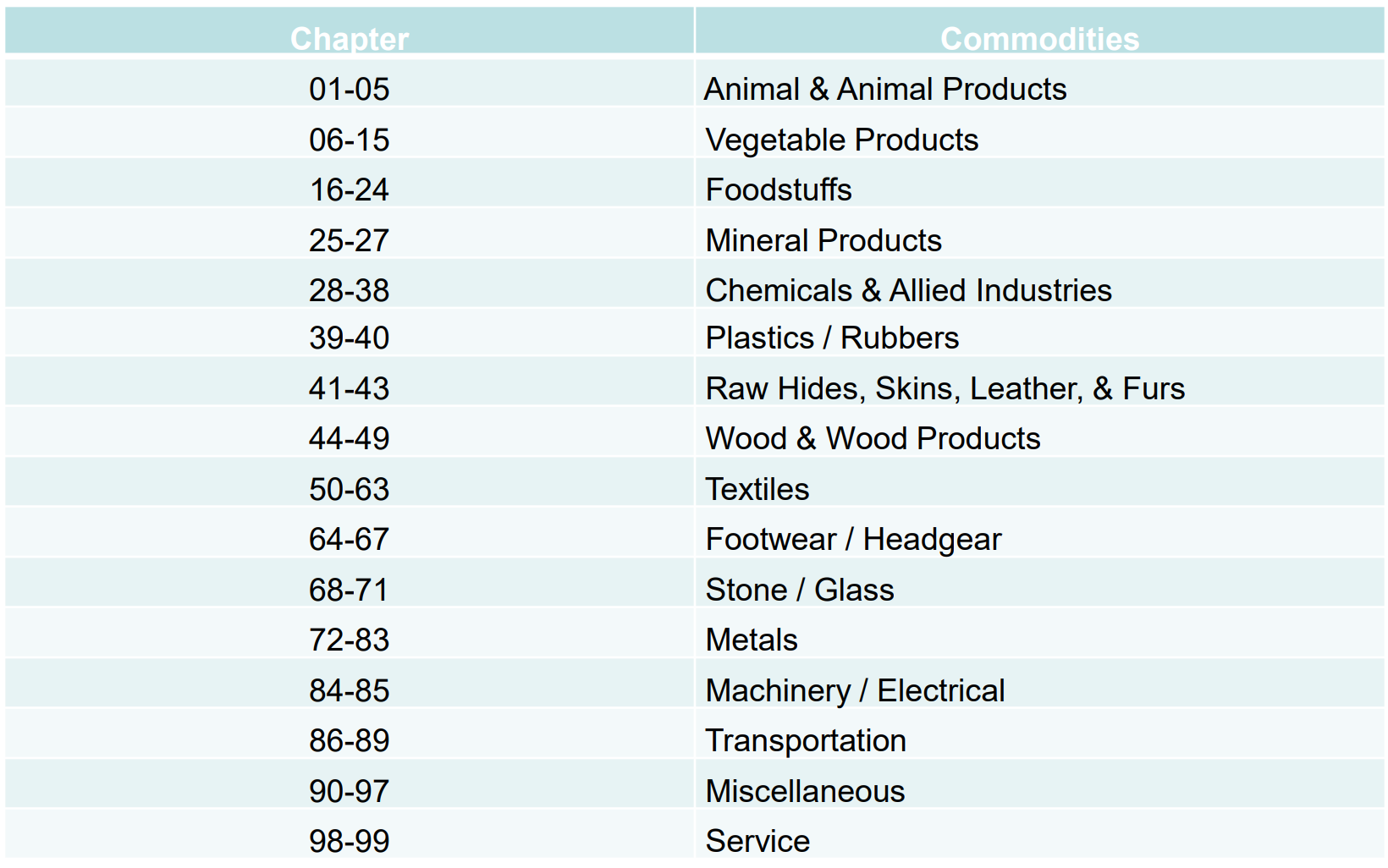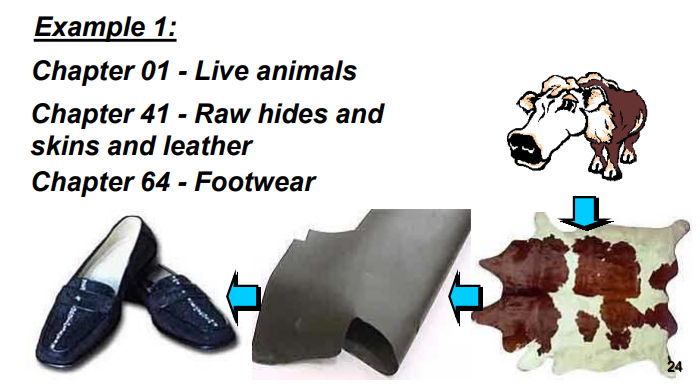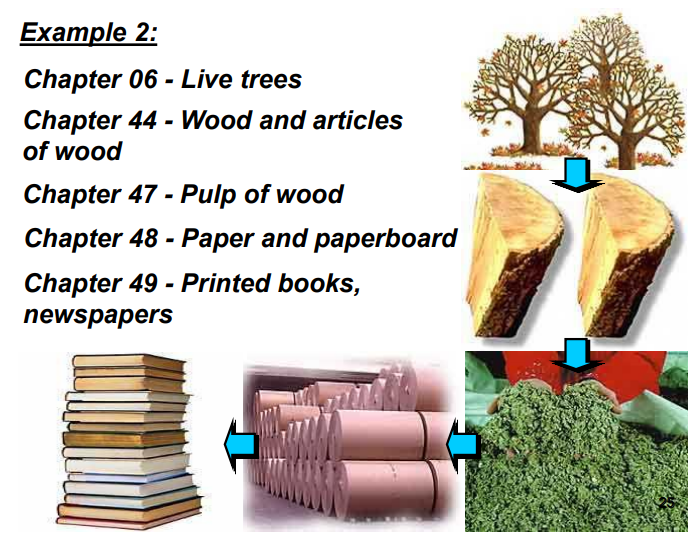 Source: PHILIPPINE TARIFF COMMISSION
• Goods under chapters 1 to 83 are generally classified according to
material of manufacture.
• Goods under chapter 84 to 96 are generally classified according to
function
Headings
– Chapters are divided into headings
– Headings are assigned with four-digit codes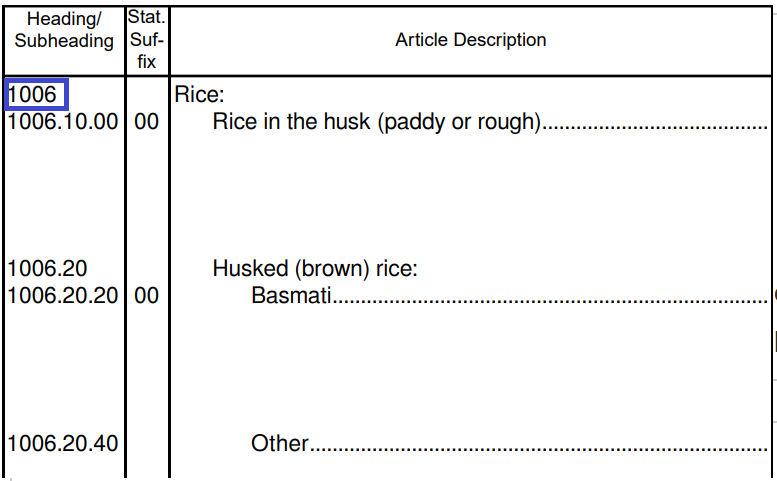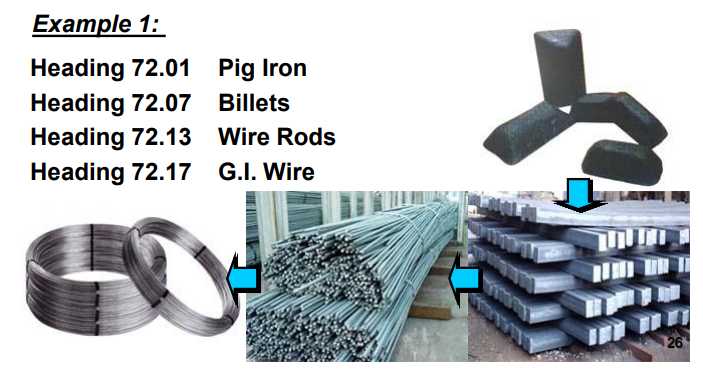 Source: PHILIPPINE TARIFF COMMISSION
Subheadings
– Headings are further divided into subheadings
– HS subheadings are assigned with six-digit codes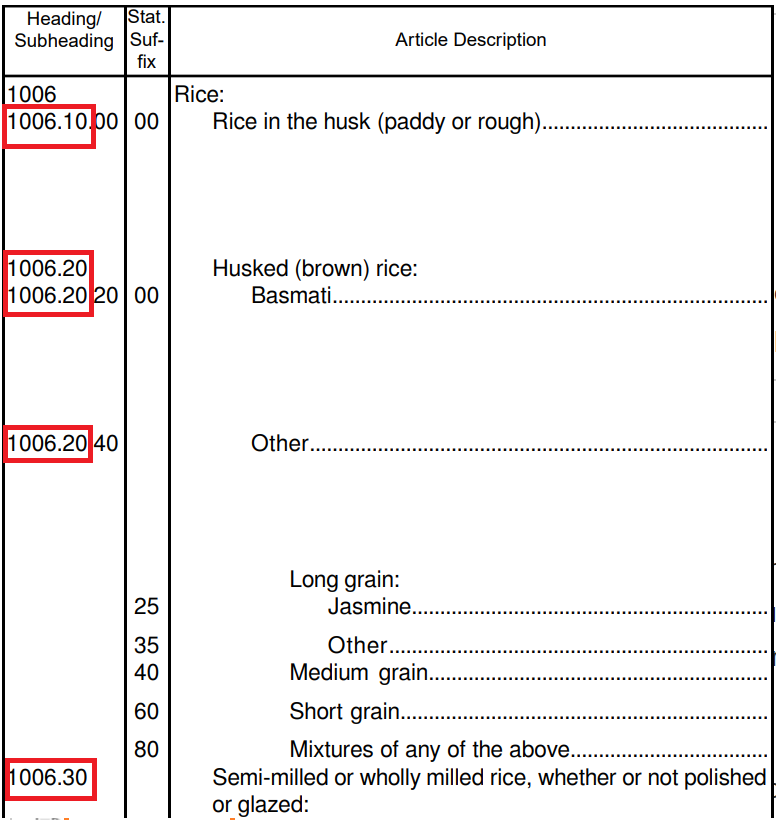 For example, the HS code for Milled rice is 1006.30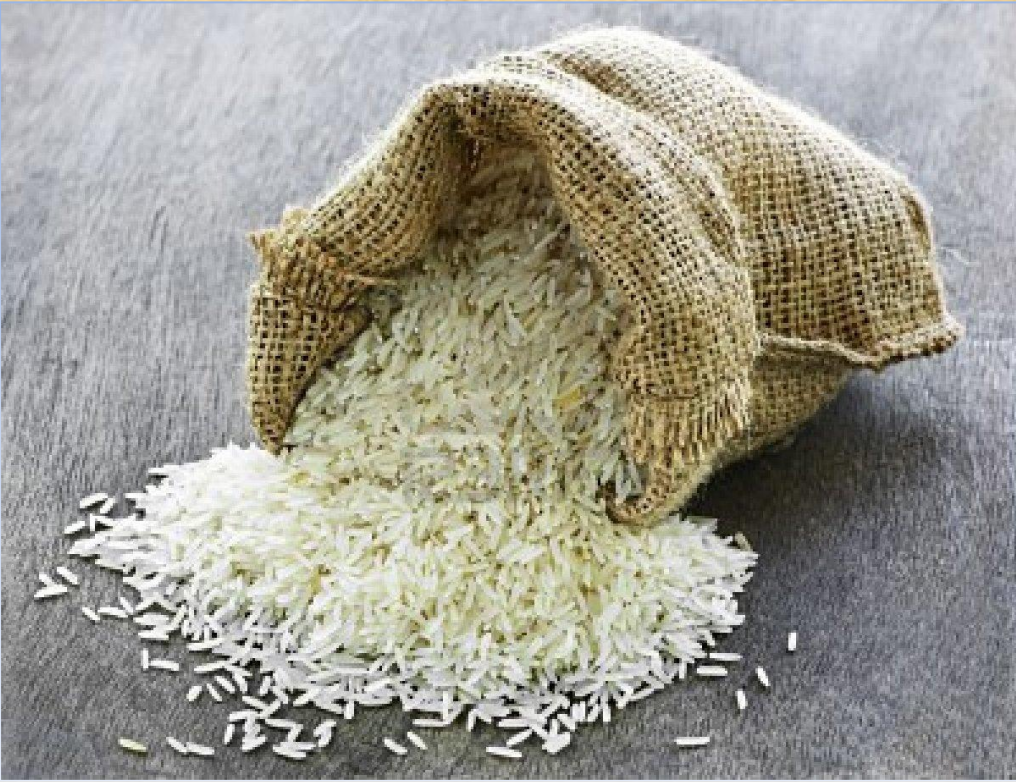 Source: Trade Development Authority of Pakistan
The full HS code for Milled rice is
1006.30.xxxx
■The first two digits 10
The first two digits are referred to as the Chapter to which the product belongs.
Here rice comes under chapter 10, which is 'Cereals'.
■The first four digits 1006
The first four digits are referred to as the Heading.
Here rice comes under Heading 1006, which is 'Rice'.
■The first six digits 1006.30
The first six digits are referred to as the SubHeading.
Here rice comes under SubHeading 1006.30, which is 'Semi-milled or wholly milled rice, whether or not polished or glazed:'.
■The entire digits 1006.30.10xx
The final 4 digits shown here in Green 1006.30.xxxx are country-specific and are assigned by individual countries.
Custom duties are assigned on entire codes, so without these last Green part digits determining the custom duty applicable on your products would not be possible.

How to classify HS code
In order to determine the HS code, we need to get a full and accurate description.
Here are basic questions to ask in determining the identity of items:
• Where is it used? (LOCATION)
• What material or substance is it made of? (MATERIAL)
• What is its function or use? (FUNCTION)
• In what form/spec is it imported? (SPECIFICATION)
• Is this the only possible classification?
Example: Classify "HOOD ASSY"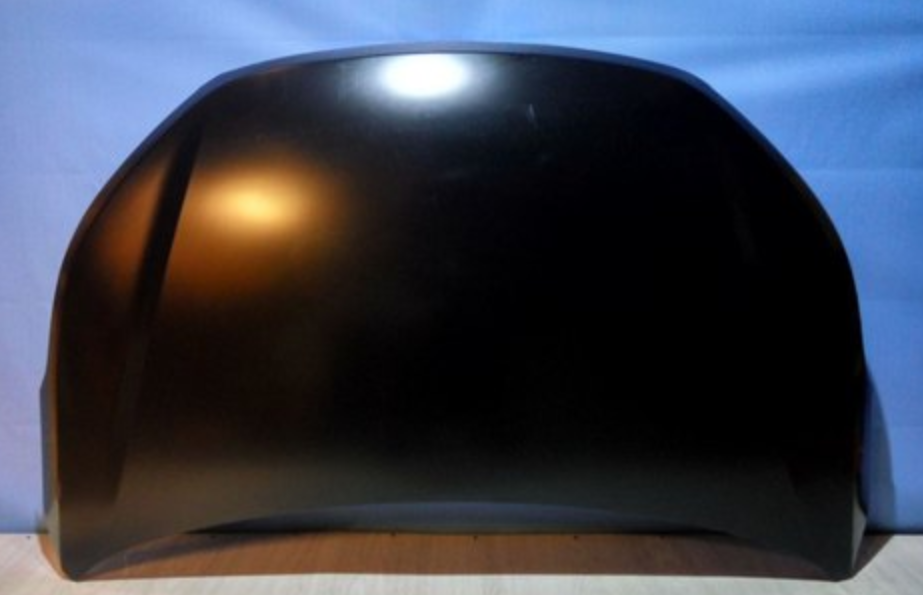 – Location: Car Body
– Material: Metal
– Function: Car Hood
Therefore it belongs to…
• Section XVII
• Chapter 87
• Heading 8708
• Subheading 870829
Apply the Sections, Chapter and Subchapter Notes
A commodity can be classified either by:
– Terms of the Heading
– Notes to the Sections, Chapters or Subheadings
– The General Interpretative Rules (GRI)
The Legal Notes which appear in front of most Sections and Chapters are known as Section Notes and Chapter Notes which has a legal force to determine HS code.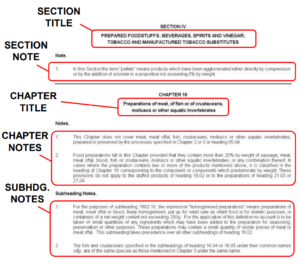 Source: PHILIPPINE TARIFF COMMISSION
The Legal Notes for each Section and Chapter provide:
– Exclusions
– Definitions
– Classification Provisions
– Limitations of Scope
Example of Exclusions
Note 1 Chapter 87 
• This chapter does not cover railway or tramway rolling-stock designed solely
for running on rails.
• Heading 8712 includes all children's bicycles. Other children's cycles fall in
heading 9503.
Another example: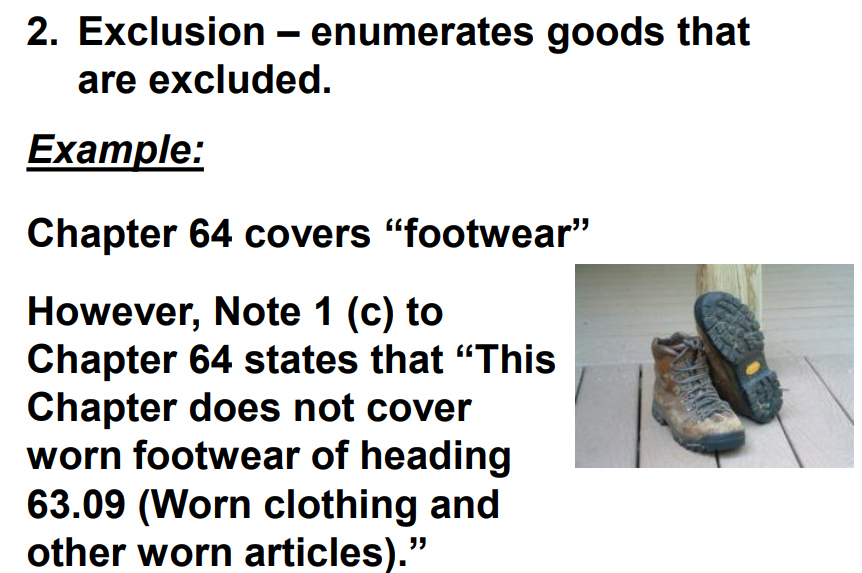 Source: PHILIPPINE TARIFF COMMISSION
Example of Definitions
Note 2 Chapter 87
– For the purposes of this chapter, "tractors" means vehicles constructed essentially for hauling or pushing another vehicle, appliance or load, whether or not they contain subsidiary provision for the transport, in connection with the main use of the tractor, of tools, seeds,fertilizers or other goods.
– Machines and working tools designed for fitting to tractors of heading 8701 as interchangeable equipment remain classified in their respective headings even if presented with the tractor, and whether or not mounted on it.
Another example: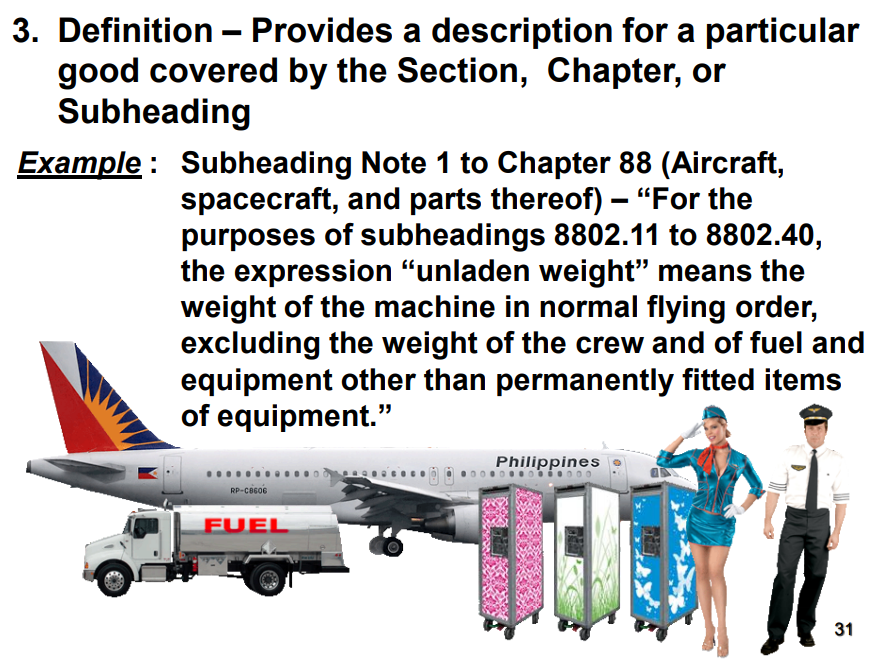 Source: PHILIPPINE TARIFF COMMISSION
Example of Classification Provisions
– These notes establish the classification of certain goods.
– Example: Note 4 to section XVII establishes the classification of "amphibious motor vehicles"
Note 4 to Section XVII
For the purposes of this section: (b) Amphibious motor vehicles are classified under the appropriate heading of chapter 87;
Another example:
Source: PHILIPPINE TARIFF COMMISSION
For example, Notes 2, 3 and 4 to Chapter 31 together provide an exhaustive list the products that fall to be classified as fertilisers in headings 31.02, 31.03 and 31.04. In comparison, Note 3 to Chapter 86 specifies some of the railway and tramway track fixtures and fittings covered by heading 86.08.
Example of Limitations of Scope
– These notes limit the scope of goods to be classified in the section.
– Example: Note 2 to section XVII (which limits the scope of the expressions "Parts" and "Parts and accessories").
Note 2 to section XVII
The expressions "parts" and "parts and accessories" do not apply to the following articles, whether or not they are identifiable as for the goods of this section:
Another example: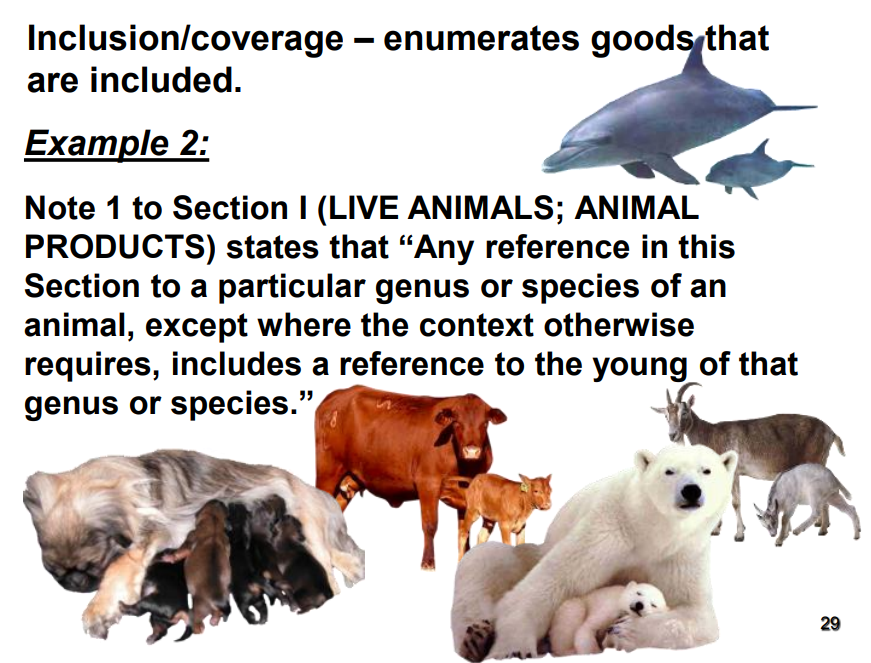 Source: PHILIPPINE TARIFF COMMISSION
Entire Structure of the HS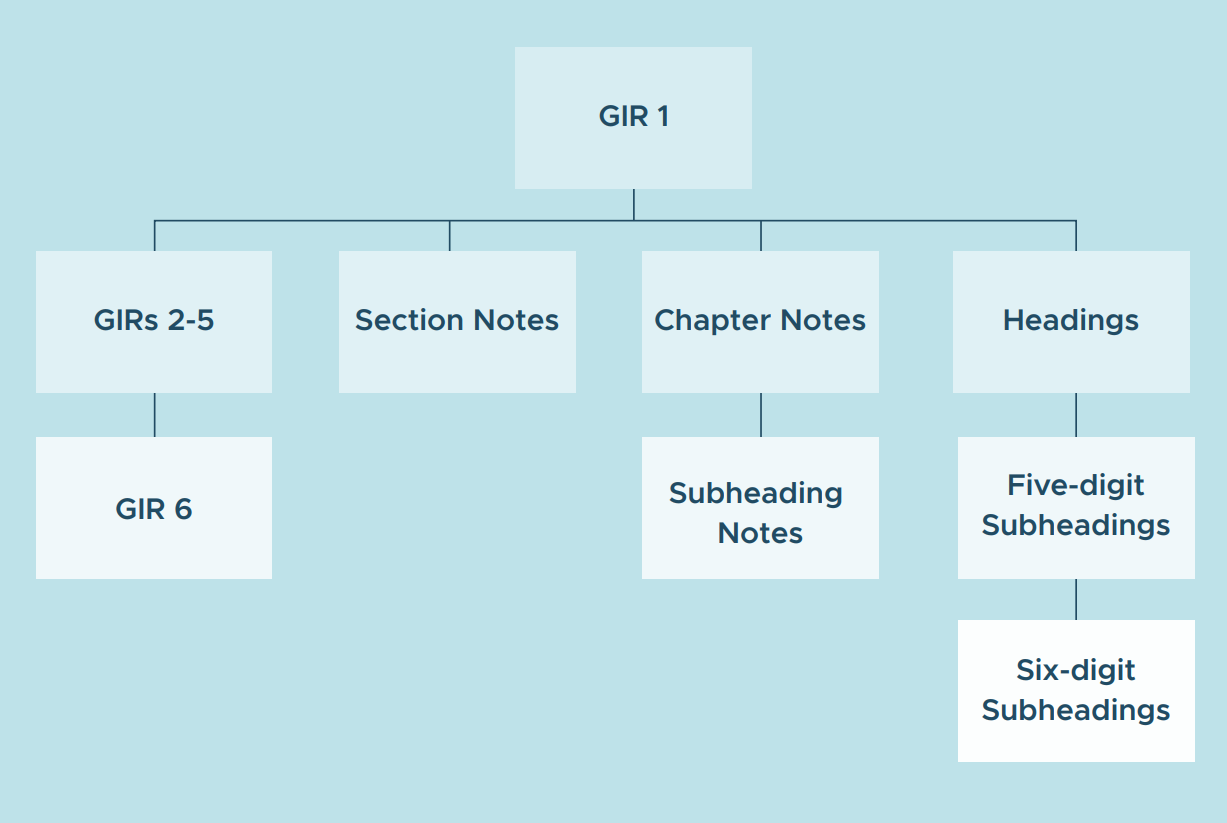 Source: WCO
*HS classification can be effective with ImageSearch on world customs ruling database
The method is in this Kindle book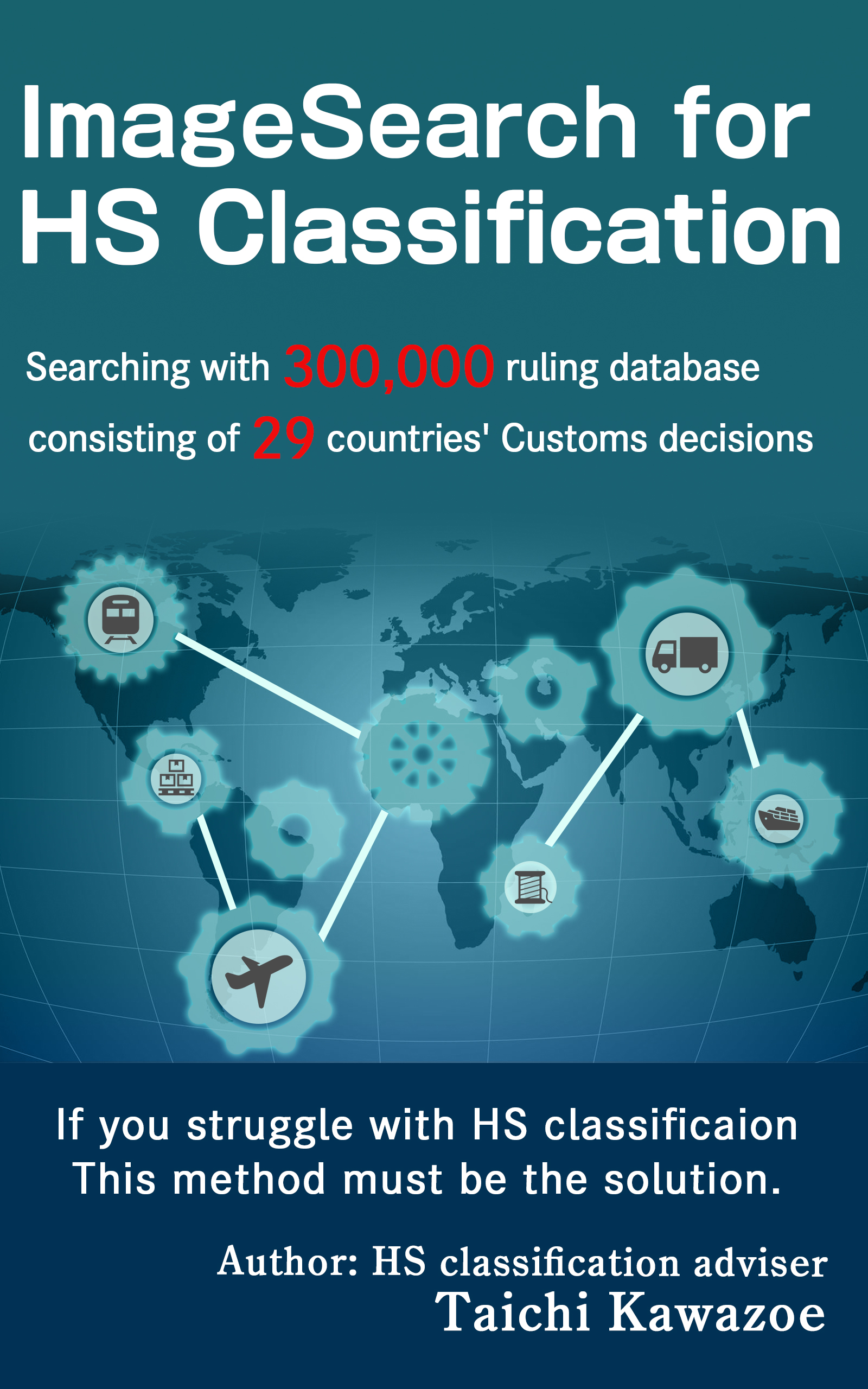 By country>
US
|
UK
|DE
|FR
|ES
|IT
|NL
|JP
|BR
|CA
|MX
|AU
|IN
ImageSearch for HS classification