The Harmonized Commodity Description and Coding System, generally referred to as "Harmonized System" or simply "HS" is a multipurpose international product nomenclature developed under the auspices of the World Customs Organization (WCO), an independent intergovernmental body.
The tariff schedule containing the headings, subheadings and the corresponding number codes, the notes to the Sections, of the Chapters and the Subheadings, as well as the General Rules for the interpretation of the HS.
THE HS CONTAINS
〇21 SECTIONS
〇96 CHAPTERS
〇1.200 HEADINGS
〇5,000 six figure groups called Subheadings
〇124 CONTRACTING PARTIES AND ONE CUSTOMS UNION.
〇202 COUNTRIES USE THEIR TARIFF SCHEDULE.
GOVERNMENTS USE HS FOR:
〇Exchange of trade data.
〇Establish duties and other taxes.
〇Control of regulated substances.
〇Development of Rules of Origin.
〇Preparation of statistics.
〇Price and quota controls.
〇Economic research and analysis.
All the HS codes can be searched from the WCO webpage.
All countries must classify the same substance under the same Subheading
〇Chapter (2Digits)
〇Heading (4Digits)
〇Subheading (6Digits)
They are arranged in a legal and logical structure and supported by well-defined rules to achieve uniform classification. You will need to understand how HS is structured before you can apply them in Rules of Origin (ROOs) as the
origin criteria(on) of a good in the Product-Specific Rule (PSR) Annex are arranged according to the HS classification numbers.
Below illustrates how Cranberry Juice is structured in the HS:2009.81.10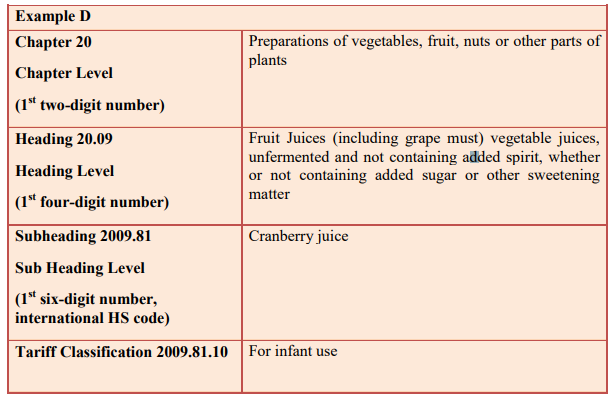 Retrieved from:Handbook on Rules of Origin for Preferential Certificates of Origin
Below illustrates how Vacuum Cleaners is structured in the HS:8508.70.00.90

Retrieved from: RULES OF ORIGIN FACILITATOR