The back-to-back Preferential Certificate of Origin (CO) is issued by the
issuing authorities in the intermediate Free Trade Agreement (FTA) country for
re-exports of goods, based on the Preferential CO issued by the first exporting Party.
The good is allowed to undergo operations such as bulk breaking and other
necessary operations to facilitate the transport without losing its originating status.
Case study of Back-to-Back Certificate of Origin"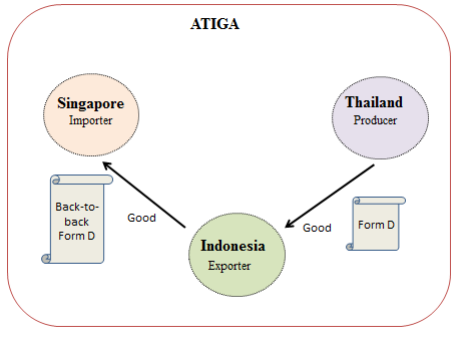 Retrieved from:Handbook on Rules of Origin for Preferential Certificates of Origin
A Thailand origin good is imported into Indonesia with a Form D before it is
re-exported to Singapore.
There were no further manufacturing activities performed while the good is in
Indonesia. In order for the Thailand's origin good to still be eligible for preferential
tariff treatment, the exporter in Indonesia would have to apply for a back-to-back
Form D with its issuing authorities.