This article is regarding the Customs rulings on "Rigid plastic cooler"
There are several patterns of classification for one kind of product.
1."Rigid plastic cooler" was classified as "furniture"(HS:9403) by U.S N259674.
2."Rigid plastic cooler" was classified as "Plastic item"(HS:3924) by U.S N024773.
3."Rigid plastic cooler" was classified as "Case"(HS:4202) by French customs.
*Actual image of the targeting item of N259674.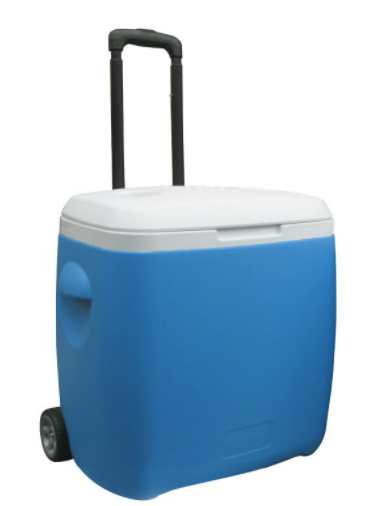 source:alibaba Item numbers:SY-G2800-C
There are several conclusions of Customs ruling for "Rigid plastic cooler".
So which is the correct one?
Item details
The targeting item is called "Rigid plastic cooler".
It has hard-sided coolers on wheels, having a telescopic handle. The cooler consists of an outer case made of PE (Polyethylene), a liner made of PP (Polypropylene), and an insulated area made of PU (Polyurethane) foam. And it has a 24-liter capacity and can hold 36 cans plus ice.
U.S. Customs classified it in 9403. And on the other hand, another ruling classified it in 3924.
Additionally, French customs classified it in 4202.
Here is the French customs classification record.
| | |
| --- | --- |
| Item image | |
| Issued Country | French customs |
| Reference | FR-E4-2006-000436 |
| Issuing date | 2006-02-21 |
| Item name | BOXES OF PLASTIC |
| Classified HS code | 4202.99 |
| Details & Customs Opinion | COOLER PLASTIC RIGID RECTANGULAR DESIGNED FOR STORAGE, TRANSPORT AND STORAGE OF FOOD BEING MADE: – A LID WITH HANDLE AND A SEAL THAT MAKES A BETTER INSULATION AND PREVENTS THE DIRT AND DUST TO ENTER. – A TANK WITH A FACE polypropylene INTERIOR IS WHITE AND BLUE PLASTIC FACE OUTSIDE. BOTH PARTIES INVOLVE BUSINESS LOGOS ON THEIR FACE OUTSIDE.INSULATION AND FULL TANK COVER IS PROVIDED BY THE INJECTED POLYURETHANE FOAM BETWEEN THE TWO FACES INDOOR AND OUTDOOR, OR WITHOUT CFC HCFC. CLOSING AND SEALING IS PROVIDED BY THE HANDLE BY SIMPLE ROTATION BOTTOM UP.THIS COOLER IS STRONG AND CAN BE USED FOR BOOSTER SEAT IT MAY PAY A CHARGE OF UP TO 250 KG. |
After Review
U.S. Customs has reviewed N259674 and N024773 and has determined the ruling letters to be in error.
The following HS headings are under consideration:
3924:
Tableware, kitchenware, other household articles and hygienic or toilet articles, of plastics
4202:
cases, bags, insulated food or beverage bags,
9403:
Other furniture and parts thereof:
To determine which one is appropriate, Refer to each Chapter note and EN.
Exclusion from 9403
The EN to heading 9403, states below.
EN to heading 9403:
[I]ce-boxes, ice-chests and the like, and also insulated cabinets not equipped or designed to contain an active refrigerating element but insulated simply by glass fibre, cork, wool, etc., remain classified in this heading.
It seems that "Rigid plastic cooler" should be classified in 9403 because it states that HS9403 contains Ice-boxes and ice chests. but U.S.Customs state that the merchandise is not classifiable as furniture in heading 9403.
The reason is that the courts have construed "furniture" to mean articles "for the use, convenience, and comfort of the house dweller and not subsidiary articles for ornamentation alone." Furthermore, the courts have distinguished "furniture" from articles that are "subsidiary adjuncts and appendages designed for the ornamentation of a dwelling or business place, or which are of comparatively minor importance so far as use, comfort, and convenience are concerned."
Although a cooler is a movable article with a utilitarian purpose, as it is useful to those traveling with food and beverages, it lacks the characteristics of furniture found as examples in Chapter 94 and is not likely to equip a private dwelling.
It may be stored in a private dwelling, but it would serve its purpose outside of the dwelling-this is especially illustrated by the coolers that include drain plugs, which would allow users to drain melted ice. Additionally, it is not used for comfort and convenience in the home.
Therefore "Rigid plastic cooler" can not be classified in 9403.
Exclusion from 3924
Chapter 39, note 2(m):Chapter 39, note 2(m) excludes "…trunks, suitcases, handbags or other containers of heading 42.02.
It means that if the merchandise is classified in 4202, it's automatically excluded from 3924. So we should see the possibility of it being classified in 4202 first.
Heading 4202 applies to Trunks, suitcases, vanity cases, attaché cases, briefcases, school satchels, spectacle cases, binocular cases, camera cases, musical instrument cases, gun cases, holsters and similar containers.
Since "Rigid plastic cooler" is the kind of container, we need to clarify the definition of the container.
Court case
According to the Court case of
The Federal Circuit, in Totes, Inc. v. United States
The definition of the container is below.
The definition of the containerMany of the containers named in subheading 4202.92.9020 are used to organize, store, and protect specific items.
According to the Court case of TOTES INCORPORATED v. UNITED STATES
The definition of the container is below.
The definition of the containerorganize, store, or carry
The subject merchandise is used by consumers to store, organize, and protect (through insulation) food and beverages while traveling.
Conclusion
"Rigid plastic cooler" is a container that can organize, store, and carry (include handles) several items for future use.
Additionally, the coolers also protect the items stored through insulation.
Therefore, CBP finds that the subject "Rigid plastic cooler" is classified under subheading 4202.12 and revoked d N259674 and N024773 to reclassify in 4202.
Source:Customs Bulletin
My opinion
In this case, there are several ways to classify "Rigid plastic cooler", HS:9403, HS 3924, or HS 4202.
It illustrates that the classification mechanism highly depends on one's opinion when you can not classify with GRI's, legal notes, or EN.
In such a circumstance, one of the option is to follow Court case to adopt the definition of the related word for targeting item.
In order to solve this kind of problem, searchability for related court cases is very important.